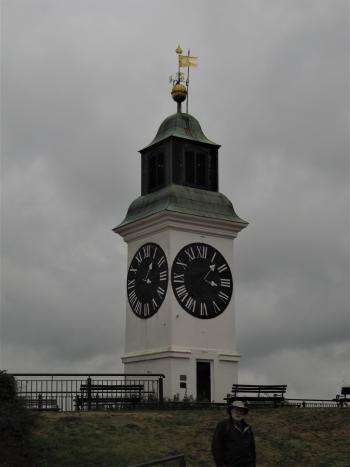 Over 300 years ago, the clock tower seen in our June 2019 "mystery photo" was created to be part of the Petrovaradin Fortress in Novi Sad, northern Serbia. On the tower, each of the four clock faces (measuring about 6½ feet in diameter) is unique in that the hour hand is long and the minute hand is short — the opposite of typical clocks. (Being able to see the hour from a distance came in handy for boatmen on the Danube River, which flows alongside the city.)
Construction of the tower spanned 88 years, from 1692 to 1780, during the reigns of several Austrian emperors. Today, the clock still operates and rings each hour.
Twenty-six correct answers were submitted, and RAYMOND PRINCE of Maple Valley, Washington, won the drawing. We thank Dave Bentzin of Casper, Wyoming, for submitting the picture.
Correct answers were submitted by:
Cynthia Anchondo, Moreno Valley, CA; Dean Aulick, Silver Spring, MD; Rachel Bishar, Santa Barbara, CA; Mike Brandt, El Dorado Hills, CA; Michael Anthony Chrusciel, Riverview, MI; Maria Cueto, Weehawken, NJ; Heidi Foggatt, Phoenix, AZ; Te Gurule, Jamestown, TN; Signe Haugen, San Carlos, CA; Jane & Clyde Holt, Hinesburg, VT; Stephen Jeffries, Centennial, CO; Karyn Kandell, Kyoto, Japan; George C. Kingston, East Longmeadow, MA; W. Wayne Lindsey, Las Vegas, NV; Janell Lopus, Naples, FL; Milana Naddeo, Chesterbrook, PA; Ron Oakham, Tucson, AZ; Donna Peterson, Patch Grove, WI;
WINNER:
Raymond Prince, Maple Valley, WA; Marcia Ritter, St. Louis, MO; Pam Ross, Louisville, KY; Mary Schmidt, Fairfax, VA; Gladys Sheldon, Oconomowoc, WI; Rod Smith, Oskaloosa, KS; Charles Twine, Durham, NC; Jonathan van Bilsen, Port Perry, ON, Canada.
---