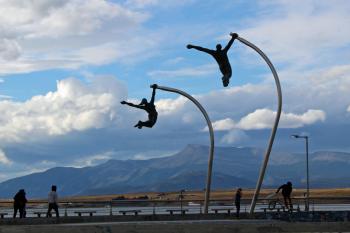 "The monument blends the area's raging winds with an amazing view of distant, glacier-topped peaks and a glacial lake." This is how the contributor of November's mystery photo described the spot where she captured this sculpture on film.
The spot is Puerto Natales, Chile, sometimes referred to as a gateway to southern Patagonia's Torres del Paine National Park, and visitors strolling along the Avenida Pedro Montt will get a close-up view of this unusual work of art, "Monumento al Viento" ("Monument to the Wind"). Designed by Chilean sculptor Marcela Romagnoli Espinosa, the national monument was inaugurated on June 1, 2012, celebrating the 101st anniversary of the founding of the city.
Thirty-one correct answers were submitted, and MARY-PAT PARKER of Colorado Springs, Colorado, won the drawing. We thank Wanda Bahde of Summerfield, Florida, for submitting the picture. We also thank Perry McIntosh of Wangulen Odyssey (a longtime ITN advertiser) for providing us with the sculptor's name.
Correct answers were submitted by:
BJ Bjorklund, Frisco, TX; Michael Chrusciel, Riverview, MI; Maria Cueto, Weehawken, NJ; Heidi Foggatt, Phoenix, AZ; Signe Haugen, San Carlos, CA; John Heberle, Rochester, NY; Carl Herzog, Charlotte, VT; John Hicks, Tehachapi, CA; Mike Holloway, Lumberton, NJ; Jane & Clyde Holt, Hinesburg, VT; Gordon Kitchens, Atlanta, GA; Dan Lundberg, North Miami, FL; Phil Lutzi, St. Pete Beach, FL; Earl Mack, San Ramon, CA; Hai Madarang, Kennewick, WA; Connie Martin, Prescott, AZ; Christian Moser, Puerto Natales, Chile; Cheri Ng, San Ramon, CA;
WINNER:
Mary-Pat Parker, Colorado Springs, CO; Donna Peterson, Patch Grove, WI; Raymond Prince, Maple Valley, WA; Preston Reeves, Seguin, TX; Mary Schmidt, Fairfax, VA; Malcolm Smith, Berkeley, CA; Phyllis Stolls, Riverside, CA; Joanne Stone, Tucson, AZ; Mike Stooke, O'Fallon, IL; Charles Twine, Durham, NC; Jonathan van Bilsen, Port Perry, ON, Canada; Mary Ann Wilder, Victor, NY; Kathy Wilhelm, Cary, NC.
---