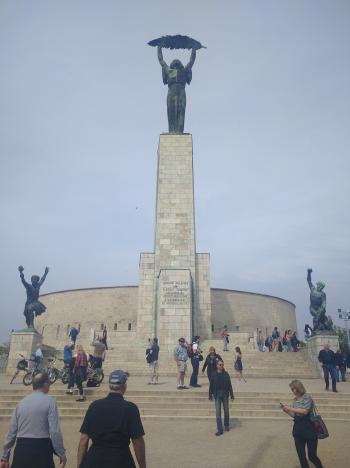 The Szabadság Szobor (Hungarian for "Liberty Statue" or "Freedom Statue"), located in Budapest, Hungary, was pictured in our August 2018 mystery photo. Hungarian artist Zsigmond Kisfaludi Strobl sculpted the bronze female figure, which was first erected in 1947 in remembrance of the country's liberation from the Nazis by the Soviets during World War II.
Towering above the city at a height of 131 feet, the icon can be seen by all of Budapest. Standing atop Gellért Hill and an 85-foot-tall pedestal, the 46-foot-tall figure holds a large palm leaf in her hand. On either side are two shorter male figures representing "progress" and "evil."
After the fall of Communism in 1989, the inscription on the statue was changed from, in part, "To the memory of the liberating Soviet heroes. . ." to "To the memory of those who sacrificed their lives for the independence, freedom and prosperity of Hungary."
Forty-one correct answers were submitted, and KATHLEEN WOOD of Lakewood Ranch, Florida, won the drawing. ITN Assistant Editor Dan Barr took the photo.
Correct answers were submitted by:
Nanci Alexander, Lexington, KY; Ralph Barrett, Knoxville, TN; Peter Basto, Newton, NJ; Shirley Becker, Skokie, IL; Rachel Bishar, Santa Barbara, CA; Lucyna Boyle, Mesa, AZ; William H. Brown, Baton Rouge, LA; Diane Casillo, Dallas, TX; Maria Cueto, Weehawken, NJ; John F. Dubay, Spokane, WA; Nancy England, Oak Ridge, TN; Rita Fisher, Des Moines, IA; Russell Gluck, Franklin Lakes, NJ; Signe Haugen, San Carlos, CA; Magali V. Hinojosa, Laredo, TX; Jane & Clyde Holt, Hinesburg, VT; Andrea Jones, San Francisco, CA; Deb Kalikow, Westford, MA; Karyn Kandell, Kyoto, Japan; Margaret Kilgore, Sharpsburg, GA; Theodore Liebersfeld, Boynton Beach, FL; Milton Lilie, Rye, NY; Earl Mack, San Ramon, CA; Nick Melillo, Carlsbad. CA; Edith F. Moates, Norman, OK; Ron Oakham, Tucson, AZ; James Oerding, Capay, CA; David J. Patten, St. Petersburg, FL; Donna Peterson, Patch Grove, WI; Raymond Prince, Maple Valley, WA; Marcia Ritter, St. Louis, MO; Lisa Robertiello, Burbank, CA; Pam Ross, Louisville, KY; Ed Schlenk, Marshalltown, IA; Mary Schmidt, Fairfax, VA; Jacqueline Siegel, Davis, CA; Phyllis & David Stolls, Riverside, CA; Charles Twine, Durham, NC; Jonathan van Bilsen, Port Perry, ON, Canada; Karen Warburg, Seaside, CA; Kathy Wilhelm, Cary, NC;
WINNER:
Kathleen Wood, Lakewood Ranch, FL.
---