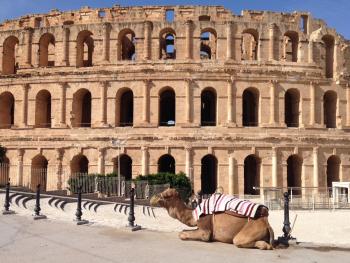 Although modeled after the well-known Colosseum in Rome, the structure seen in our January mystery photo was recognized by most of those submitting answers this month as the Amphitheatre of El Djem (a town formerly called Thysdrus) in the North African country of Tunisia. The camel parked in front of the structure was a good clue.
At its widest point, the well-preserved amphitheater measures 486 feet, and at one time, the tiers of seats rose to a height of 118 feet. It is estimated that the structure was able to accommodate up to 35,000 spectators. Its construction is believed to have begun in AD 238 by order of the province's proconsul, Gordian. Built with no foundation and made entirely of stone blocks, it served as a fortress during the Middle Ages.
Sixty-four correct answers were submitted, and ARLENE BOND of Fort Worth, Texas, won the drawing. We thank Rick Sinding of Princeton, New Jersey, for submitting the photo.
Correct answers were submitted by:
Stephen Addison, Charlotte, NC; Brita Bishop, Dallas, TX;
WINNER:
Arlene Bond, Fort Worth, TX; Cathy Briner, Eugene, OR; Frances Carrico, Phoenix, AZ; Michael Anthony Chrusciel, Riverview, MI; Marjorie A. Clark, Lone Tree, CO; Tom Conner, Scottsdale, AZ; Maria Cueto, Weehawken, NJ; Carla De Went, Grandville, MI; Marlene Dehn, Davis, CA; Christine Donchin, Ashland, OR; Steve Drosman, Encinitas, CA; Theresa Egan, Gaithersburg, MD; T. Myers Elefant, San Jose, CA; Steven Emmet, Encinitas, CA; Heidrun Foggatt, Phoenix, AZ; Deborah Futch, Winter Haven, FL; Janice Gay, Vero Beach, FL; Jean Giacchina, Grosse Pointe Park, MI; George Gianopulos, Fresno, CA; Stanley Gorcik, Buffalo Grove, IL; Signe Haugen, San Carlos, CA; William Hollifield, Lutherville, MD; Mark & Linnea Holmer, Algona, IA; Jane & Clyde Holt, Hinesburg, VT; Elaine Hutchinson, Garden Ridge, TX; Robin Ilardi, Morgantown, WV; Karyn Kandell, Kyoto, Japan; Paul Kastin, Atlanta, GA; Sarah Kirtland, New York, NY; Joseph B. Lambert, San Antonio, TX; Deborah A. Larson, Winter Springs, FL; Alan Law, Kelowna, BC, Canada; Allan Little III, Atlanta, GA; Phil Lutzi, St. Pete Beach, FL; Greg Mannion, Fountain Hills, AZ; Steven Matthews, Orleans, VT; Eleanor Minich, Albuquerque, NM; Dan Mitchell, Prior Lake, MN; Robert Mitchell, Waukesha, WI; Margaret Norman, Gurnee, IL; J.B. Oerding, Capay, CA; Kathy Parsons, Ann Arbor, MI; Carol Peim, Hendersonville, NC; Donna Peterson, Patch Grove, WI; Raymond Prince, Maple Valley, WA; Marcia Ritter, St. Louis, MO; Kay Roberts, Dayton, OH; Pam Ross, Louisville, KY; Eileen Schattner, Alhambra, CA; Mary Schmidt, Fairfax, VA; Cindy Shurtleff, Seattle, WA; James P. Sibley, Spring, TX; Albert Simonson, Santa Ysabel, CA; Mike Stooke, O'Fallon, IL; Douglas Storey, Mississauga, ON, Canada; Kathy Symons, Arcadia, CA; Susan Tartaglino, Alvord, TX; Charles Twine, Durham, NC; Jonathan van Bilsen, Port Perry, ON, Canada; Judy Vanderstar, Waynesboro, VA; Karen Warburg, Seaside, CA.
---