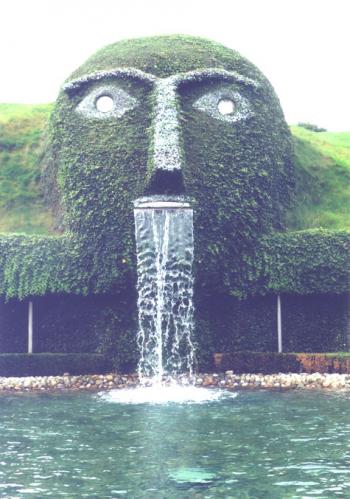 Apparently, our December mystery photo was so unmistakeable that every single answer we received was correct! The location of the green giant fountain is about 20 minutes northeast of Austria's Tyrolean capital, Innsbruck, in the town of Wattens.
Swarovski Kristallwelten (Crystal Worlds), a museum filled with unusual works of art that all center around the theme of crystal, was built in 1995 for the 100th anniversary of the crystal company Swarovski.
Multimedia artist André Heller designed the museum to represent a giant overseeing 16 "chambers of wonder" including a huge, crystal geodesic dome and a mechanical theater. Artists represented include Salvador Dali, Andy Warhol and glass-blowing artist John Brekke.
Thirty-one correct answers were submitted, and GEORGE C. KINGSTON of East Longmeadow, Massachusetts, won the drawing. We thank Regine Schumacher of Seal Beach, California, for submitting the photo.
Correct answers were submitted by:
Doug Barnett, Sarasota, FL; Lucyna Boyle, Mesa, AZ; Gary Brown, Covington, LA; Gerald Brown, Los Angeles, CA; Kathryn Camp, Lavon, TX; Wayne S. Carpenter, Adrian, MI; Antoinette Clair, West Chester, PA; Maria A. Cueto, Weehawken, NJ; Diane Powell Ferguson, Scottsdale, AZ; Stanley Gorcik, Buffalo Grove, IL; Signe Haugen, San Carlos, CA; Roger Hinkle, Oro Valley, AZ; Jane & Clyde Holt, Hinesburg, VT; Calvin Hurst, Rockwall, TX;
WINNER:
George C. Kingston, East Longmeadow, MA; Sandra Klug, East Northport, NY; MIchael Kostzewa, Reading, PA; Maria Lisella, New York, NY; Robert Ono, Davis, CA; Carol Peim, Hendersonville, NC; Donna Peterson, Patch Grove, WI; Raymond Prince, Maple Valley, WA; Mary Schmidt, Fairfax, VA; Julie Scott, Long Beach, CA; Jim Steele, Ventura, CA; George Steinsberger, Columbus, NE; Phyllis & David Stolls, Riverside, CA; Tom Travis, Simi Valley, CA; Charles Twine, Durham, NC; Jonathan van Bilsen, Port Perry, Ontario, Canada; Dieter Weigelt, Apache Junction, AZ.
---