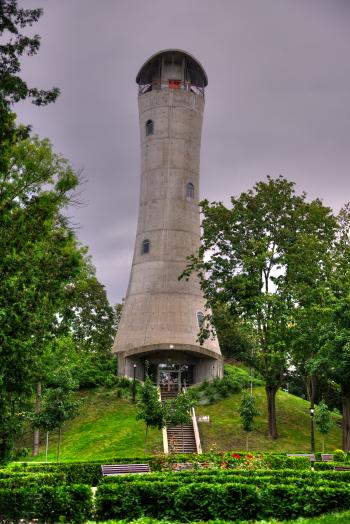 The location of the building shown in our October mystery photo was, apparently, a mystery to all of our readers, as NO correct answers were submitted.
The 115-foot-tall observation tower pictured can be found in Riga, Latvia, next to a cultural center in Ziemelblazma Park. From the top of the tower (reached, for €1, by elevator or stairs), visitors can see across the city of Riga to the Gulf of Riga and the Baltic Sea. During the annual Festival of Light, the tower, which was built in 2012, is lit up from the interior, transforming its appearance into that of a lighthouse.
Because the person who submitted the photo — JONATHAN van BILSEN of Port Perry, Ontario, Canada — was successful in stumping our readers with this photo, he is this month's winner.
---