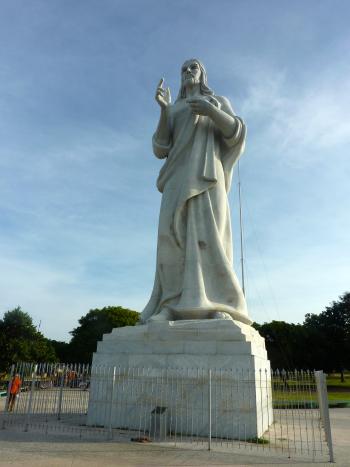 High on La Cabaña Hill, above the village of Casablanca in Cuba, is the statue known as El Cristo de La Habana (Christ of Havana). Facing eastern Havana across Havana Bay, the 56-foot-tall figure stands on a 10-foot base.
The statue, featured in our August 2017 mystery photo, was created by Cuban sculptor Jilma Madera, who was commissioned in 1953 by Marta Fernandez de Batista, wife of the republic's dictator. The statue was erected Dec. 24, 1958, 15 days before Fidel Castro entered Havana. The statue was built from 67 blocks of white Carrara marble that had been transported from Italy after being blessed by Pope Pius XII.
Twenty-one correct answers were submitted, and EDITH MOATES of Norman, Oklahoma, won the drawing. We thank Bonnie Condit of St. Louis Park, Minnesota, for submitting the picture.
Correct answers were submitted by:
Marilyn Adelman, Chicago, IL; Lucyna Boyle, Mesa, AZ; Michael Brandt, El Dorado Hills, CA; Cathy Briner, Eugene, OR; Dave Davis, Phoenix, AZ; Ken Gould, Clearwater, FL; Signe Haugen, San Carlos, CA; Jane & Clyde Holt, Hinesburg, VT; Stephen Jeffries, Centennial, CO; Andrea Jones, San Francisco, CA;
WINNER:
Edith Moates, Norman, OK; Theodore Liebersfeld, Boynton Beach, FL; Robert McCarron, Cuyahoga Falls, OH; Ann Melody, Ottawa, IL; Sandra L. Pelletier, Capay, CA; Raymond Prince, Maple Valley, WA; Marcia Ritter, St. Louis, MO; Mary Schmidt, Fairfax, VA; Lina Treleaven, Pinellas Park, FL; Gail Tsuboi, Moraga, CA; Jonathan van Bilsen, Port Perry, ON, CANADA.
---