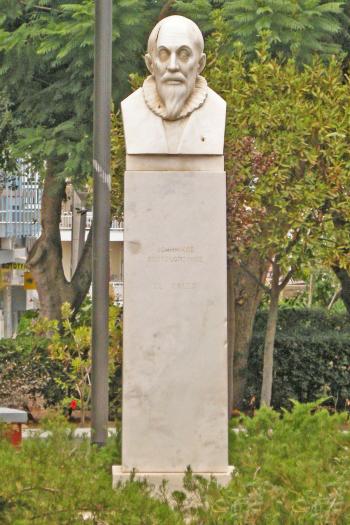 The bust of the artist Domenikos Theotokopoulos (aka El Greco), pictured in our February mystery photo, is located in El Greco Park in Heraklion, the largest city on the island of Crete, Greece's largest island. Heraklion's claim to fame as El Greco's birthplace changed in 1934, when researchers visiting the small village of Fodele, 17 miles west of the city, informed the residents that the artist had actually been born and raised in
their
community.
Born in 1541, El Greco was in his mid-20s when he left for Venice, where he studied art and gained the nickname "Il Greco." About 10 years later he traveled to Toledo, Spain, where his paintings earned him lasting recognition (as El Greco) and where he lived until his death in 1614.
Ten correct answers were submitted, and EARL MACK of San Ramon, California, won the drawing. We thank David J. Patten of St. Petersburg, Florida, for submitting the picture.
Correct answers were submitted by:
Marian Anderson, San Francisco, CA; Jill Athey, St. Petersburg, FL; Jane & Clyde Holt, Hinesburg, VT; Karyn Kandell, Kyoto, Japan; Theodore Liebersfeld, Boynton Beach, FL;
WINNER:
Earl Mack, San Ramon, CA; Raymond Prince, Maple Valley, WA; Steven Reiff, Decatur, GA; Mary Schmidt, Fairfax, VA; James Stefan, Sarasota, FL.
---