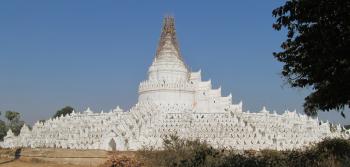 Two hundred years ago, Prince Bagyidaw of Burma (today called Myanmar) began building the structure shown in the mystery photo in the November 2015 issue. He dedicated the white pagoda — located in Mingun on the banks of the Irrawaddy River north of Mandalay — to the memory of his first consort and cousin, Princess Hsinbyume (White Elephant), who died in childbirth.
Buddhist symbolism is everywhere in the Hsinbyume Pagoda. Circular terraces at the pagoda's base represent the seven mountain ranges surrounding Mount Meru (which Buddhists once believed to be the center of the universe), and a gold spire on top contains an image of Buddha.
Heavily damaged by an earthquake in 1838, the pagoda was restored by King Mindon in 1874. Today, one of the best ways to reach the site is by boat from Mandalay.
Sixty-three correct answers were submitted, and ROBERT ONO of Davis, California, won the drawing. We thank Diana Thomson of St. Charles, Missouri, for submitting the photo.
Correct answers were submitted by:
Nanci Alexander, Lexington, KY; Richard Alvernaz, Lakeside, CA; Bud Anderson, Concord, CA; Nicholas Anderson, Windom, MN; Shirley & Victor Becker, Skokie, IL; Jacqueline J. Bell, Belmont, CA; Wendy Bell, Takoma Park, MD; Lynn Bradley, Belleville, IL; Jim Bradshaw, Aiken, SC; Cathy Briner, Eugene, OR; Rus Budde, Palatine, IL; Linda A. Bulgreen, Monterey, CA; Julie Cassen, Charlotte, NC; Maria A. Cueto, Weehawken, NJ; James Dawson, Belleville, MI; Gary Dempsey, Camarillo, CA; H.H. Dibbern, Santa Cruz, CA; Edwin T. Earl, Laguna Beach, CA; Femi Faminu, Los Angeles, CA; Sandra Fassett, Chesterfield, VA; Jennifer Gardner, El Segundo, CA; Robert Gay, Vero Beach, FL; Russell Gluck, Franklin Lakes, NJ; Tim Griffith, Boulder City, NV; Brice Harris, Pasadena, CA; John B. Haseman, Grand Junction, CO; Signe Haugen, San Carlos, CA; Ed & Gloria Helmuth, Tulsa, OK; Carl Herzog, Charlotte, VT; John Hicks, Tehachapi, CA; Jane & Clyde Holt, Hinesburg, VT; Willa Ingwer, Aventura, FL; Doranne Jacobson, Springfield, IL; Stephen Jeffries, Centennial, CO; Judith E. Just, Lompoc, CA; Karyn Kandell, Kyoto, Japan; Susan Kipp, Oyster Bay, NY; Robert Kowalczyk, North Dartmouth, MA; Toni Kull, Hillsboro, IL; Arno Lauterbach, San Jose, CA; Gladys Learned, Geneva, IL; Phil Lutzi, St. Pete Beach, FL; Barbara McIntosh, Roseville, CA; Eleanor Minich, Albuquerque, NM; Gunnar Niemi, Emeryville, CA; Margaret Norman, Gurnee, IL; James B. Oerding, Capay, CA; Nili Olay, New York, NY;
WINNER:
Robert Ono, Davis, CA; David J. Patten, Saint Petersburg, FL; Raymond Prince, Maple Valley, WA; Elizabeth Pugh-Zaleski, Surprise, AZ; Doug Rittenhouse, Port Angeles, WA; Marvin Soffer, Boynton Beach, FL; Jill Sullivan, Waynesboro, VA; Subhadra Suresh, Cincinnati, OH; Gail Tsuboi, Moraga, CA; Paula Varner, Tacoma, WA; Carolyn von Kutzleben, Avon, CT; Lorraine Wahlund, Carrington, ND; Karen Watkins, Schenectady, NY; Dave Wiltzius, Livermore, CA; Terri Zabala, Salinas, CA.
---