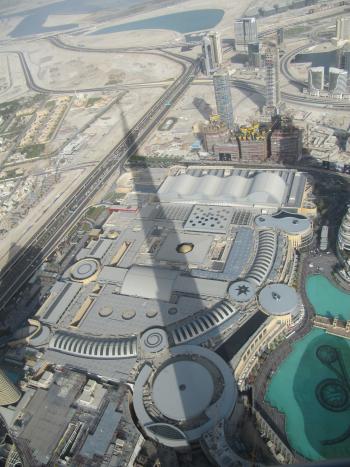 Pictured in the April 2016 issue, the long shadow cast across the Dubai Mall in the city of Dubai in the United Arab Emirates (UAE) is that of the tallest man-made structure in the world, the 2,722-foot-tall Burj Khalifa. The photo was taken from the building's 124th-floor observation deck, "At the Top."
Construction of the building lasted almost six years (January 2004 to October 2009). Nearly 26,000 hand-cut glass panels were used in the exterior cladding of the tower, designed to withstand Dubai's extreme heat in the summer. Fifty-seven elevators and eight escalators transport visitors up and down the concrete tower.
Officially opened in 2010, the Burj Khalifa was named in honor of Khalifa bin Zayed Al Nahyan, who remains the Emir of Abu Dhabi and president of the UAE.
Sixty-five correct answers were submitted, and ROBERT QUIGLEY of Alexandria, Virginia, won the drawing. We thank Dave Bentzin of Casper, Wyoming, for submitting the photo.
Correct answers were submitted by:
Ben Abate, San Diego, CA; Ronnie Allen, Bala Cynwyd, PA; Lisa Anway, Pebble Beach, CA; Victor Becker, Skokie, IL; Russell Benton, Due West, SC; Bruce Berger, Mountain View, CA; Dan Berschauer, Olympia, WA; Rich & Joan Blacharski, Cumming, GA; Clark A. Buchner, Memphis, TN; Judy Cassano, Cornelius, NC; Marcia Crabbe, Venice, FL; Alan Craig, Red Bluff, CA; Maria Cueto, Weehawken, NJ; Eric J. Dalton, New Hudson, MI; Judith Delzer, Anacortes, WA; Mike Dixon, Washington, D.C.; Charles Fevig, Green Valley, AZ; Donald Fillman, Fair Oaks, CA; Matthew Flanary, Brookfield, WI; Claire & Zanley Galton, Portland, OR; Ann Gastrich, Pound Ridge, NY; Susan Greek, Corona, CA; Steve Hains, Austin, TX; David Hall, Wheaton, IL; Signe Haugen, San Carlos, CA; Magali V. Hinojosa, Laredo, TX; George Hobgood, Austin, TX; Samuel Leon Hochman, Fort Lauderdale, FL; William Hutchinson, Signal Hill, CA; Alex Jaloway, Flemington, NJ; Stephen Jeffries, Centennial, CO; Steve Jennings, Colorado Springs, CO; Karyn Kandell, Kyoto, Japan; George C. Kingston, East Longmeadow, MA; Susan Kipp, Oyster Bay, NY; Aavo Koort, Santa Barbara, CA; Julie Lenkoff, Eugene, OR; Ann Lockwood, Alexandria, VA; Judy Love, Albuquerque, NM; Barbara Martin, Green Valley, AZ; Ann Marzano, Wayne, IL; Clair McCobb, Raritan, NJ; Richard A. McQueen, Florence, SC; Judy Newell, Chicago, IL; James Oerding, Capay, CA; Patricia Ove, Aurora, CO; Mukesh Patel, Duluth, GA; Jeri Peterson, Hendersonville, NC; Edward Pinsky, Montrose, NY; Raymond Prince, Maple Valley, WA; Judi Purcell, Pensacola Beach, FL;
WINNER:
Robert Quigley, Alexandria, VA; Joe D. Roberson, Opelika, AL; Jean Rusk, Park City, UT; Michael D. Shepard, Highlands Ranch, CO; Kenneth Sherman, Jackson, NJ; Dave Smith, Irvine, CA; Joan Marie Squitieri, Greenwich, CT; Martha Thacker, Orlando, FL; Laurie Turner, Shelburne, VT; Charles Twine, Durham, NC; Barbara Virden, Santa Ana, CA; Karen Warburg, Seaside, CA; Scott White, Durango, CO; Margo Wilson, Scottsdale, AZ.
---