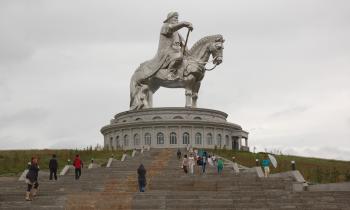 The height of the huge statue shown in our January mystery photo — more than 131 feet — is a fitting reflection of the power wielded by the person represented. The Genghis Khan Equestrian Statue stands on a bank of the Tuul River, about 35 miles east of Ulaanbaatar, towering over the plains of Mongolia.
Born in 1162, Genghis Khan not only united Mongolia's nomadic tribes, he succeeded in conquering so many nations that his kingdom eventually spanned the Eurasian continent from what is now Eastern Europe to the Sea of Japan. Before his death in 1227, Genghis Khan encouraged trade and became known for granting religious freedom to all of his subjects.
Sixty-three correct answers were submitted, and JAMES SIBLEY of Spring, Texas, won the drawing. We thank Rick Sinding of Princeton, New Jersey, for submitting the photo.
Correct answers were submitted by the following:
Earl Ancell, San Dimas, CA; Nick Anderson, Windom, MN; Gary Atwood, Las Vegas, NV; Deepak Awasthi, Destrehan, LA; Chris Bjurstrom, Yonkers, NY; Lucina Boyle, Mesa, AZ; Cathy Briner, Eugene, OR; Patricia Bunyard, Cambria, CA; Ann Brown, St. Louis, MO; Skip Carpenter, Coronado, CA; John Carver, Chatsworth, CA; Judy Chovan, Friday Harbor, WA; Jill Cohen, Stony Brook, NY; Maria A. Cueto, Weehawken, NJ; Jim Dawson, Belleville, MI; Edwin Tobias Earl, Laguna Beach, CA; Steve & Janet Flexer, Gig Harbor, WA; Heidi Foggatt, Phoenix, AZ; Willie K. Friar, Lafayette, CO; Sherryl Frisch, Wimauma, FL; Kathryn Geiger, Houston, TX; Russell Gluck, Franklin Lakes, NJ; Kenneth Gould, Clearwater, FL; Beverly Green, Greeley, CO; Barb Hartwell, St. Petersburg, FL; Signe Haugen, San Carlos, CA; Jonathan A. Hayes, Corvallis, OR; Magali V. Hinojosa, Laredo, TX; Hochman, Samuel Leon, Ft. Lauderdale, FL; Jane & Clyde Holt, Hinesburg, VT; Jeff Houle, McLean, VA; Thomas Jedele, Tucson, AZ; Stephen Jeffries, Centennial, CO; Andrea Jones, San Francisco, CA; Karyn Kandell, Kyoto, Japan; George C. Kingston, East Longmeadow, MA; Edith Moates, Norman, OK; C.A. Novotny, Chicago, IL; Patricia Ove, Aurora, CO; Carol Peim, Hendersonville, NC; Sandra L. Pelletier, Capay, CA; Donna Perelman, Boynton Beach, FL; Beth Podol, El Paso, TX; Betty Podol, Reston, VA; Barbara Porter, Seattle, WA; Raymond Prince, Maple Valley, WA; Gail Riba, Wimauma, FL; Joy Robinson, Palo Alto, CA; Michael Rothenberg, San Jose, CA;
WINNER:
James Sibley, Spring, TX; Sallie Silver, Oviedo, FL; Gay Stettinius, Hot Springs, AR; Kay Stevens, Santa Barbara, CA; Jill Sullivan, Waynesboro, VA; Les Sury, Woodlawn, ON, Canada; Frances Symons, San Diego, CA; Maria Thompson, New York, NY; Alice & Jerry Tucker, Honolulu, HI; Judy Moore Vandenberg, Houston, TX; Kathy Whitmer, Bellingham, WA; Kathy Wilhelm, Cary, NC; Dave Wiltzius, Livermore, CA; John Zepecki, Morgan Hill, CA.
---