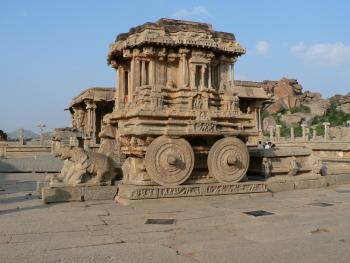 Five hundred years after it was built in the 16th century, visitors to the Vittala Temple complex in Hampi, Karnataka, in southern India, can still see the Stone Chariot, the subject of the September issue's mystery photo.
Also known as the Kallina Ratha, the shrine was built during the rule of King Krishnadevaraya, considered one of the greatest kings of the Vijayanagara Empire. It is believed that the king got the idea for the shrine's construction after seeing the 13th-century Konark Sun Temple (also built in the form of a chariot) in the eastern Indian state of Odisha while waging war there.
The shrine was dedicated to Garuda, Lord Vishnu's mythical mount — half man, half eagle. Garuda's image has since disappeared from the shrine, and the wheels have been cemented to prevent further damage from visitors' turning them. The elephants "pulling" the chariot replaced the horses that originally stood there.
Forty-five correct answers were submitted, and JAMES B. OERDING of Capay, California, won the drawing. We thank Kathy Wilhelm of Cary, North Carolina, for submitting the photo.
Correct answers were submitted by:
Nicholas Anderson, Windom, MN; Jill Athey, St. Petersburg, FL; Shirley Becker, Skokie, IL; Jackie Bell, Belmont, CA; Dan Berman, Honolulu, HI; Maria A. Cueto, Weehawken, NJ; Carla DeWent, Grandville, MI; Femi Faminu, Los Angeles, CA; Robert Filman, Menlo Park, CA; Signe Haugen, San Carlos, CA; Magali V. Hinojosa, Laredo, TX; Jane & Clyde Holt, Hinesburg, VT; Doranne Jacobson, Springfield, IL; Stephen Jeffries, Centennial, CO; Pam Johnsen, Issaquah, WA; George C. Kingston, East Longmeadow, MA; Sarah Kirtland, New York, NY; Sneha Korgaonkar, Mumbai, Maharashtra, India; Sharad Kumar, Oakland Township, MI; Kathie Larsen, Seattle, WA; Herbert Leifer, Dix Hills, NY; Sylvia Levi, Sherman Oaks, CA; Allan Little III, Atlanta, GA; Catherine Novotny, Chicago, IL; Grant A.A. Oerding, Davis, CA;
WINNER:
James B. Oerding, Capay, CA; Mary Jo Offerman, Fort Collins, CO; James Oliver, Memphis, TN; Mary Ortendahl, Orinda, CA; Donna Peterson, Patch Grove, WI; Mary Jo Pieroni, Florence, AL; Diane Plank, Berkeley, CA; Raymond Prince, Maple Valley, WA; Everett Ramsey, New Orleans, LA; Pamela Ross, Louisville, KY; E. Schlenk, Marshalltown, IA; Michael Schmidt, Juneau, AK; Richard W. Smith, Columbia, SC; John Stern, Los Angeles, CA; J. Surgan, Nutley, NJ; May C. Targett, Cleveland, OH; Lorna Tjaden, New Hope, MN; Richard Walker, La Jolla, CA; Brian Weaver, Burlington, KY; Margo Wilson, Scottsdale, AZ.
---