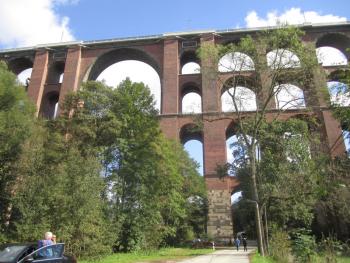 The mystery photo in the July issue showed the Göltzschtalbrücke (Göltzsch Viaduct), a railway bridge that spans the Göltzsch River valley between the towns of Mylau and Netzschkau, connecting the German states of Saxony and Bavaria.
When it was inaugurated in July 1851, the structure was the world's tallest railway bridge. Today, the 256-foot-tall, 1,883-foot-long span still holds the record as the largest brick-built bridge in the world, containing over 26 million bricks. The bridge's masonry was completely restored in the mid-1950s.
The viaduct took five years to build, and at nearby Mylau Castle, a museum that opened in 1883 has a room dedicated to the viaduct's construction, including building plans, photos, paintings and a scale model of the scaffolding.
Eleven correct answers were submitted, and JANET COLLINS of Lexington, Kentucky, won the drawing. We thank Miyako Storch of Santa Barbara, California, for submitting the photo.
Correct answers were submitted by:
Sharon Affeltranger, Pacifica, CA; Nicholas Anderson, Windom, MN;
WINNER:
Janet Collins, Lexington, KY; Robert Filman, Menlo Park, CA; Jane & Clyde Holt, Hinesburg, VT; George C. Kingston, East Longmeadow, MA; Phil Lutzi, St. Pete Beach, FL; Donna Peterson, Patch Grove, WI; Raymond Prince, Maple Valley, WA; Jennifer Schultz, Northbrook, IL; Jill Sullivan, Waynesboro, VA.
---