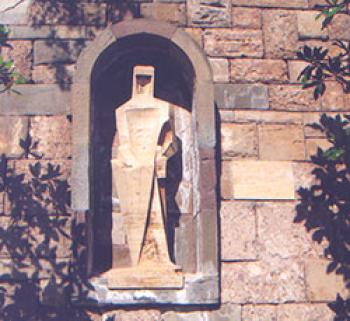 Pilgrims have been making the trek up Our Lady's Hill to the Shrine in Montserrat, Spain, for centuries, but it wasn't until 1986 that the subject of August's photo was installed near the top of the path.
It's a sculpture of St. George by Catalan artist Josep Maria Subarichs (b. 1927). Subarichs is best known for carving the Passion Façade at Sagrada Família cathedral in Barcelona.
Five readers sent in correct answers, and LYNN SIMS of Springfield, Missouri, won the drawing.
We thank Phyllis Mueller of San Jose, California, for contributing the photo.
---