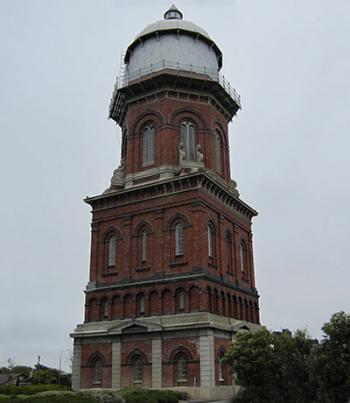 Tanks for the memories.... When 19th-century Europeans began developing Invercargill, South Island, New Zealand, they faced the problem of supplying water to the new settlement. The area around Invercargill is very flat, so they couldn't rely on a gravity-fed system. The solution is the subject of the June 2012 photo: the Invercargill Water Tower.
Built in 1889, the 131-foot-high tower is topped with a water tank that holds 78,459 gallons. The ornate red-brick-and-plaster cupola around the tower is considered to be a prime example of the Victorian style of decorating utilitarian structures.
Visitors used to be able to tour the inside of the tower, but as of February '12 the tower has been closed, awaiting clearance by earthquake-safety inspectors.
Three readers sent in correct answers, and GEORGE KINGSTON of East Longmeadow, Massachusetts, won the drawing. We thank Nanci Alexander of Lexington, Kentucky, for contributing the photo.
---