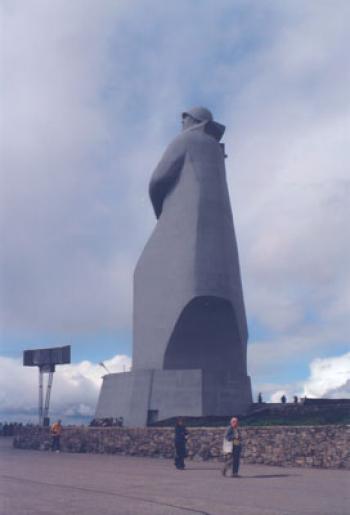 For four years, from 1941 to 1944, the Litsa River frontier in the Russian Arctic was the focus of an attempt by German forces to take Murmansk, site of a harbor crucial to the Soviets. Tens of thousands of men on both sides died during the battle. Although Murmansk, itself, was bombed into ruins, no Axis forces ever succeeded in setting foot in the city.
October 19, 1974, was the 30th anniversary of the final defeat of the German forces in the Arctic, and the subject of April's photo was dedicated on that day in a solemn ceremony. "Defenders of the Soviet Arctic during the Great Patriotic War," aka Alyosha (a diminutive of "Aleksey"), is a 116-foot-tall granite monument standing on a 23-foot-high pedestal.
Alyosha faces west toward what during the war was known as "Death Valley" but what today is called "Valley of Glory." The statue weighs 5,000 tons and is hollow, but, to the Russians, the victory certainly was not.
Fifteen readers sent in the correct answer, and BRENDA DOHERTY of Clifton, New Jersey, won the drawing. We thank Susan Darsey of La Selva Beach, California, for contributing the photo.
---