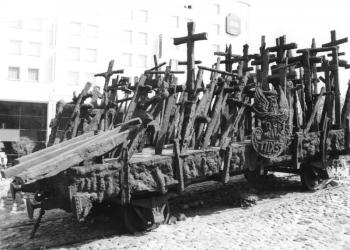 On Sept. 1, 1939, Germany invaded Poland from the west. Sixteen days later, on Sept. 17, the Soviet Union invaded Poland from the east, annexed more than half the country and began a reign of repression and murder that would result in hundreds of thousands of Poles being shipped to Siberian labor camps, where uncounted thousands died.
Today in Warsaw, the Memorial to the Villages Overrun by the Soviets is located on Muranowska Street. The cart of crosses, seen in the photo sent by Thomas Elefant of San Jose, California, is only part of the memorial. A row of railroad ties, each bearing the name of a Polish village or city taken over by the Soviets, extends from the front of the cart.
Twenty-two readers sent in correct answers, and LESTER MOTYKA of Lake Zurich, Illinois, won the drawing.
---