Chilean Riviera for a week or a season
By Randy Keck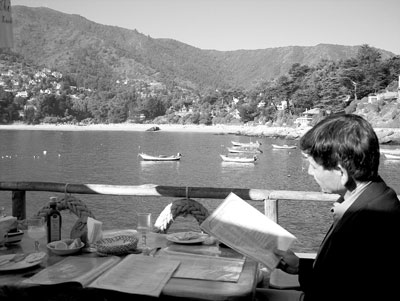 Ocean bluff seascapes, the sweet scent of stately and abundant pines and cypress, ice plant carpeted slopes and recreational amenities galore —_welcome to the Monterey/Carmel of South America, the Chilean Riviera.
In a visit to Chile in April '06, I had the opportunity as a guest of Chilean Special Journeys to experience some of the best of the Chilean Riviera ocean playground at the gate-guarded Marbella Resort, located on the bluffs above and overlooking the seafront village of Maitencillo.
Marbella is less than two hours' drive from both Santiago city and the Arturo Merino Benitez International Airport via excellent toll expressways. It is an excellent location from which to explore the unlimited attractions of central Chile.
The resort is a perfect base for one-week to multimonth vacation stays, especially as an alternative snowbird destination for those seeking a respite from the North American winter. Actually, the climate at Marbella is very similar to that of the lower Central California coast, so it is pleasant year-round by North American standards. Golf and tennis can be enjoyed 12 months a year.
Eat, drink, play, relax
Activity options abound in this scenic coastal region. At the Marbella Resort specifically, golf, tennis, swimming, horseback riding and spa services are featured along with, at the resort hotel, various cultural attractions.
Below the resort, at Maitencillo, a 5-minute drive away, beach activities are on offer, especially during the summer season, which runs from November through February. Restaurants such as Bric-Brac, La Caleta and La Mar usually have available a great variety of fresh fish and shellfish, including locos, which is a local type of abalone. They also offer a range of other local dishes, with prices from $8 to $15, not including wine.
We tried and can recommend all three restaurants, of which Bric Brac with its eclectic atmosphere and great wine selection was perhaps my favorite. Definitely try the grilled corvina (sea bass), congrio and reineta, all local favorites, available at most seafood restaurants.
There is also a fine wine shop in Maitencillo featuring wines from throughout Chile as well as from overseas.
Since most Chileans take their vacations in January and February, Marbella and Maitencillo are not overly busy at most other times, providing the opportunity to experience a relaxed, unhurried resort atmosphere and quiet, relaxing strolls on the long beaches in relative solitude. With few other visitors around, such was the case with our April visit. I will never tire of having a beach all to myself.
The beckoning call of civilization
Forty-five minutes to the south of Marbella, all the accoutrements of civilization are available in the large beach resort city of Viña del Mar and the neighboring UNESCO World Heritage Site city of Valparaiso, built on a system of 45 hills around Chile's largest seaport. Historic Valparaiso, a haven for artistic types, still utilizes funiculars as a form of transport.
These two cities have major shopping centers, cinemas, museums, casinos, horse racing and a variety of cultural attractions and dining options of all types. Coffee culture fare is featured in the abundant sidewalk cafés, with the cortado (a strong espresso and foamed-milk blend) being the most popular drink choice. I have been to both cities several times and enjoy the rather extreme contrast in their appearances and styles.
Other driving excursions
To the north, small, usually uncrowded beach communities, some of which provide the opportunity to drive your vehicle on the beaches, offer off-season solitude and unpretentious local dining. The crown jewel of these is enticingly attractive Zapallar, the summer holiday home escape for some of Chile's rich and famous.
El Chiringuito, on the beautiful Zapallar beachfront, features outdoor dining in a world-class setting and is one of Chile's finest seafood restaurants. It also has arguably the biggest and best wine selection north of Viña del Mar. Dinners cost $12-$25.
Our dinner, including one bottle of wine, appetizers, main course, salads and dessert, cost about $40 per person — a bit expensive by Chilean standards. The setting, service, food and overall quality of the dining experience provided unquestioned value.
Inland, agriculture dominates and roadside fruit and vegetable stands offer a huge variety of fresh fare at extremely low prices. Tastings and tours are available at some of the region's fine wineries. A 2-hour drive to the east, high in the Andes near the Argentina border, is the internationally reknown Portillo Ski Resort. The ski season is generally June-September.
Continue driving another 2½ hours east and you arrive in Mendoza, the heart of Argentina's wine country. En route you pass near Aconcagua, at over 21,000 feet the highest mountain outside of the Himalayas. The good fortune of clear skies can provide excellent photo ops. We did the trip to Mendoza, but that is the subject of a future article.
Where and how to stay
While it is possible to accommodate at the Marbella Resort Hotel ($110-$130 per night for a double room), a better option for most would be one of the fully equipped 3-bedroom condominiums, which cost less on a weekly basis or longer.
Chilean Special Journeys has available such 3-bedroom condos with magnificent ocean views, offering what I consider to be great value. Weekly rates are, for one or two people, $750; for three or four people, $825, and for five or six people, $900. Four-week rentals allow a 15% discount on rental rates.
I stayed in one of these ocean-view condos while in Marbella and can highly recommend the experience. It was possible to dine out when desired and cook in the fully equipped condo kitchen when we felt like dining in.
I prepared a frittata one evening utilizing a variety of local vegetables procured for pennies at a local roadside stand. We enjoyed our meal, including a bottle of fine Chilean red, while gazing with appreciating eyes at the foaming seascape below. This fits my definition of a painless experience.
In the local supermercado, food shopping (including fresh seafood) is definitely less expensive than it is in the U.S. An entire bag of avocados (paltas) cost a bit over a dollar, and calamari steaks were $1.25 per pound. A salad without palta would be unthinkable for me in Chile.
The condos are located in the 24-hour-gate-guarded Olas complex at Marbella, which has two swimming pools and clay tennis courts, all free of charge.
Internet connections are available a few minutes' drive away at the Marbella Resort Hotel in the lounge if you have your own computer and at the business center if you do not. There are also a couple of small Internet café setups in Maitencillo.
The hotel, incidentally, has a fine restaurant, and their lounge serves great pisco sours, the delicious national drink of Chile. This proved to be a fine accompaniment to my periodic e-mail procurement excursions.
Speaking the language
The ability to speak a little in Spanish is certainly helpful but not required for a Marbella condo stay. English is being taught to all children in school, and Chile is on a committed course to becoming bilingual with English in less than 10 years. Chile, in general, is safe and friendly, and such is particularly the case at Marbella.
Local driving
Clearly, a condo stay does require an auto rental, and Chilean Special Journeys (CSJ) advises that booking in the U.S., with Santiago Airport pickup and dropoff, produces the cheapest rates. They recommend Budget Rent A Car as a good choice. Driving is on the same side as at home, and the roads are generally good. Gas is a bit more expensive than in the U.S.
User-friendly bookings
Condo bookings with CSJ includes a complete set of user-friendly unit operating instructions as well as a comprehensive listing of local restaurants, attractions and shops plus other information necessary to make your visit enjoyable and hassle-free. This includes driving instructions and information on day trips. I found these items invaluable.
Another service CSJ provides is a 24-hour local cell phone contact for any help required with the condo or other assistance.
It is recommended that visitors to Chile who do not have a cell phone that will operate locally rent a cell phone on arrival at the Santiago Airport. Intel PCS has a rental booth in the third-floor departure lounge. Rates are inexpensive; the renter is charged only for calls made, and the phone can be turned in on departure.
Alternatively, one can purchase phone cards at the airport or local markets and other stores for making both local and international calls.
Information and bookings
For further information concerning Marbella condo bookings and vacationing on the Chilean Riviera, call Chilean Special Journeys (based in Santiago, Chile) toll-free from the U.S. at 888/345-6077 or visit www.chileanspecialjourneys/condorentals. The website includes full booking info plus local and regional information and both condo and Marbella/Maitencillo area photos. CSJ also arranges individual and group travel to destinations throughout Chile, including Easter Island and Patagonia.
Randy Keck's air transportation was provided by LAN alliance, which offers flights to Argentina, Brazil, Chile, Colombia, the Dominican Republic, Ecuador, Peru, Uruguay and Venezuela with service from 29 North American cities via its Miami, New York and Los Angeles gateways.
Keck's Beyond the Garden Wall
❝This southern stage of terra, sea and sky,
Of greens and blues whose 'mergent hues reply,
In harmony with nature's hallowed ground,
Revealed as such a paradise, both lost and found. ❞
— Randy reflecting on his experience of Marbella